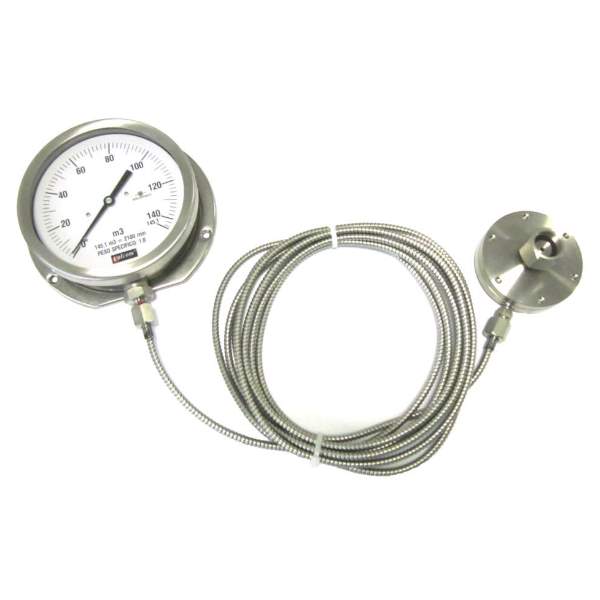 Terranova: SPG (Self Powered Gauge)
What if you lose the electronic measure? Just use a local gauge!
SPG instruments are specific for local level indication.
They are mostly used on cruise ships to have a local level indication of water level, urea levels and diesel levels inside the tanks.
During inspection of tanks and level's verification it is very important to have an accurate local indication of the levels inside them.
The SPG – Self Powered Gauge is composed by a diaphragm, a capillary and a gauge. The pressure made by the level inside the tank press on the diaphragm and it is then transmitted to the gauge thanks to the gas inside the capillary. Then the special internal movement of the manometer moves the pointer on the custom-made dial giving you the exact level value.
Dial scale can be customized on effective tanks levels, independently if the level increase is linear or not! Scale can be in height of level, volume or both in any unit of measure required.
Each instrument is individually calibrated and 100% of production is tested every time!
SPG can work in worst conditions, and can give an accurate measurement of low level values even with capillary length up to 30 meters!
Many types of installations are possible. Diaphragm inside the tank with tank top flange, externally mounted with dry-break valve or with submersed pipe are the main constructions type. They can easily meet practically all existing installation requirements!
Also pecial materials like Titanium or Hastelloy C-276 for the wetted parts, to suit fluids present are available.
SPG are RINA, BUREAU VERITAS, LLOYD REGISTED and ATEX certified!
This is an accurate, reliable and robust instrument that has nothing to envy to electronic devices! Who says that gauge measurement is outdated?
Click here for the full article – Source: Tecnoalimentaria.it